A tool for industrial and energy transformation
While contributing to the economic development of the Fos area and the preparation for the industry of the future, PIICTO also aims to become a benchmark for port innovation and competiveness in the South of Europe.
This broad ambition is structured around a number of distinct objectives:
To strengthen the trust between various local stakeholders (industrial actors, local community, port authority, public services, etc.)
To continue the current dynamic of industrial and environmental transformation (implementation of synergies and services that will benefit both industries and the territory as a whole)
To invest in innovation and to provide opportunities to experiment by offering a stable framework for the reception of new projects with the potential to create value and jobs
For more information, please download our leaflet
Innovation within PIICTO
In accordance with its statutes at the time of its creation, the PIICTO association developed an ambitious innovation initiative called INNOVEX.
As part of the Innovex initiative, the association's stakeholders welcome, support and develop various innovation projects in the fields of energy transition and smart grids (Jupiter 1000 project, Flow Box project, etc.), renewable raw materials and the circular economy ( VASCO2 project, Icare project, Vabosco project, etc.) and safety/security.
These semi-industrial demonstrators are either located on a 12-hectare area in the platform (like the Jupiter 1000 pilot) or directly within the existing industrial sites on the platform (like FlowBox, Vasco2, etc.).
Stakeholders involved in the association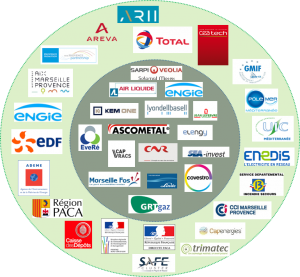 The 38 members involved in the PIICTO association:
Ademe Paca / Air Liquide / Areva SE / Arii Paca / Asco Industries / Caisse des Dépôts Paca / Carfos Sea Invest / Ccimp / Cluster Safe / Compagnie Nationale du Rhône / Conseil Régional Paca / Covestro / Direccte / Dreal / Edf (sponsor of the association) / Elengy / Enedis / Engie / Engie Combigolfe / Everé / Gmif / Port de Marseille Fos / Grt Gaz / Jean Lefebvre Méditerranée / Kem One / Lyondell Chimie France / Métropole Aix-Marseille Provence / Pôle Capenergies / Pôle Mer Méditerranée / Pôle Trimatec / Provence Promotion / Sdis13 / Solamat Merex / Sous-Préfecture d'Istres / Total Développement Régional (sponsor of the association) / Uic Méditerranée / Vicat / Linde / CEA Tech
Governance